As hotel marketers plan for a strong Q4, it's important to keep a pulse on the evolving digital landscape, especially when planning for success in 2021.
This month, Google officially launches a new custom audiences feature, YouTube launches YouTube Shorts, and new Google insights might give hotel marketers the campaign inspiration they need. From Search to Social Media and Design, here are the top 5 things you need to know now in hotel digital marketing.
1. Search: Google custom audiences are now officially live to drive persona-based marketing.
Last year at Google Marketing Live, Google announced it would be unifying custom affinity and custom intent audiences under a custom audience option. Custom audiences are now available in Google Ads for Display, Discovery, Gmail, and YouTube campaigns.
What has changed? Users no longer create custom affinity or intent audiences. Now, when you set up a new custom audience from the Custom Audiences tab on the top menu of Audience Manager, you'll have the option of building the audience based on either people with specific interests or purchase intentions, or people who searched for specific terms on Google properties (such as Google.com and YouTube). You can then expand the targeting with URLs, apps from a list, and/or types of places users visit from a dropdown list.
Leveraging custom audiences allows hotel marketers to build richer target audiences based on customer personas. For example, if spring is a need period for your luxury hotel or resort, and families are a key segment, you can combine demographic with interests (affinity targeting) and with purchase intentions (in-market targeting) under custom audiences to build an audience that consists of parents in the top 10% income bracket that have school-aged children, and are in-market for a vacation to your destination. You can also add in a luxury travel affinity audience to ensure that the high-income families you're reaching are indeed interested in luxury travel and hotels.
YOU MAY ALSO LIKE
Top 5 Things You Need to Know Now in Hotel Digital Marketing: June Edition
Top 5 Things You Need to Know Now in Hotel Digital Marketing: August Edition
Virgin Hotels And The Source Team Up To Launch 'Don't Sleep On Voting' Campaignview all
2. CRM: Create automated marketing campaigns around past guests who have hit pause on travel or cancelled a past reservation without rebooking.
With so many travelers pressing pause on travel plans in 2020 and travel beginning to steadily rebound, encourage past guests to stay again by setting up an automated campaign triggered by the anniversary of a guest's stay. Be sure to highlight compelling experiences, flexible cancellation rates, and link to pandemic safety precautions your hotel has in place to put potential guests at ease. For people who have cancelled a reservation but have yet to rebook, send a compelling offer with "Your Stay Awaits" messaging personalized around the room type and stay details of the cancellation.
3. Social Media: YouTube launches YouTube Shorts and Instagram's built-in Shopping Cart expands to IGTV and Reels.
YouTube is rolling out YouTube Shorts, a short-form video creator tool similar to TikTok and Instagram Reels. Users can make 15-second videos set to music and utilize a multi-segment camera, speed controls, and a timer and countdown feature. YouTube Shorts is launching as an early beta beginning in India and will appear on the homepage in a dedicated row. With over 2 billion monthly active users and one billion hours of video viewed every day, YouTube is an effective channel to drive brand awareness and reach. YouTube Shorts provide brands with a new opportunity to engage audiences with short-form video. Once available, hotels can incorporate Shorts into their organic social media content strategy.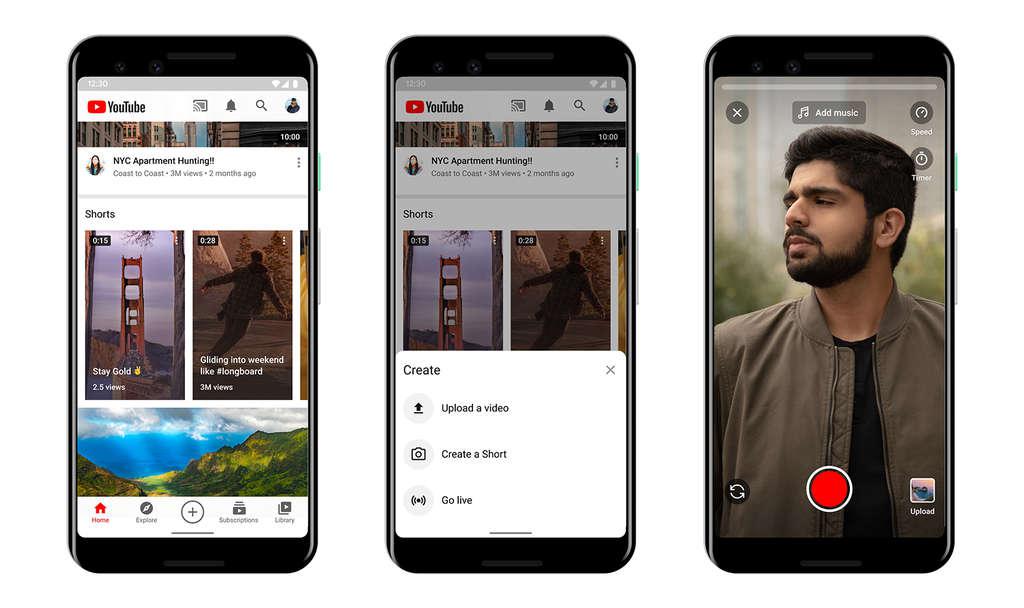 In other social media news, Instagram is rolling out Checkout to IGTV and will be testing it in Reels, the app's short-form video product, later this year. Checkout enables users to buy products tagged in images and videos from within Instagram. With Checkout, Instagram is becoming a powerful e-commerce platform for brands and creators. Checkout is available to all businesses in the U.S. and is already available in posts, Stories, and the Explore section. If your hotel sells merchandise like bath products, signature scented candles, robes, and so on, this presents even more opportunity to boost ancillary revenue.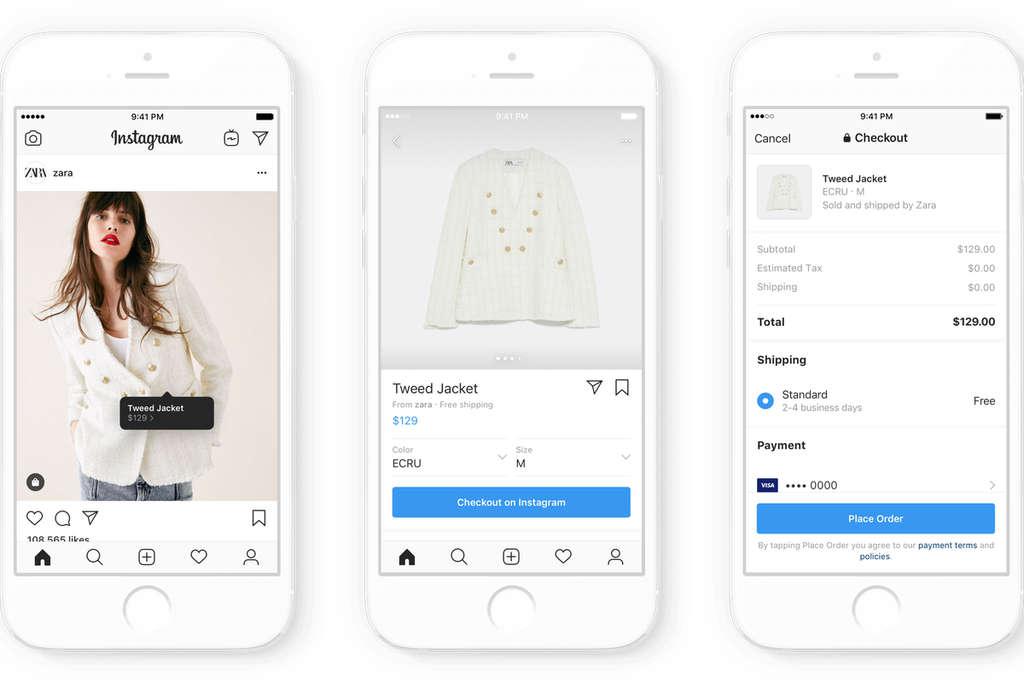 4. Display: Google rolls out new automated Insights Page to Google Ads.
Google is rolling out a new insights page in the Google Ads UI, that will bring in data from Rising Retail Categories as well as Google Trends data that is customized to the account. Advertisers will see currently trending searches, auction insights, as well as interest predictions tailored to their account. For example, as shown in the example below, an outdoor gear retailer might see that "tents" is a trending term, that competitors in the auction are gaining impression share, and that "skiing" is predicted to trend in November. It also integrates with recommendations. Insights will be rolling out in beta in the coming months, first coming to the U.S. and U.K. before end of year. Google says it will also be adding audience and forecasting data. Access to interest predictions within Google Ads will give hotel marketers inspiration for future campaigns and will help hotels capitalize on new demand.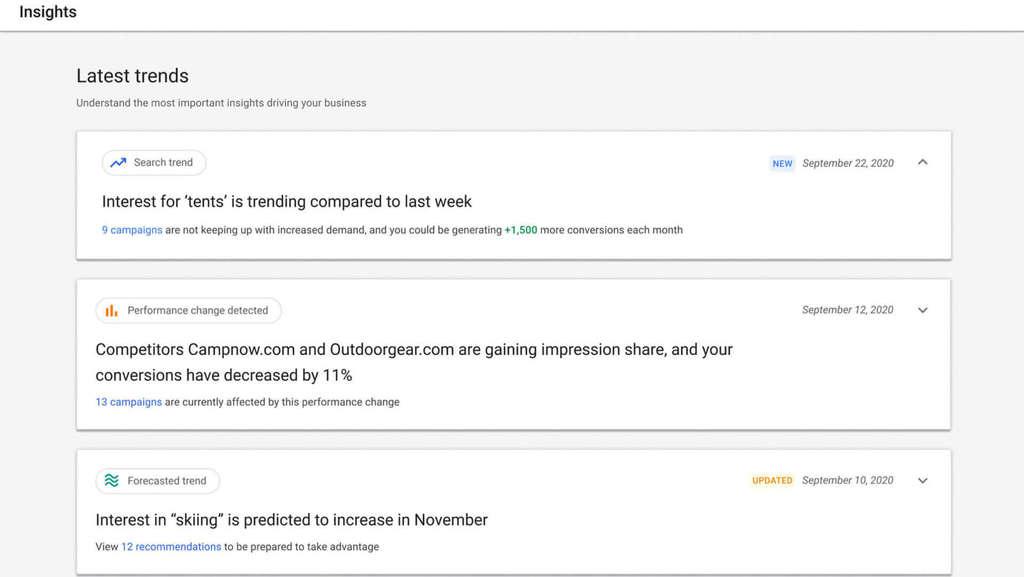 5. Design: Playful Cursors.
Implementing playful cursors on your website can be as simple as changing the cursor shape or as complex as coding cursor-triggered animations. Consider this playful touch for engaging campaigns or more playful sections of your website. For instance, if you have an iconic brand element that can be used as a cursor, this may be something to consider to add a unique touch to your website experience.