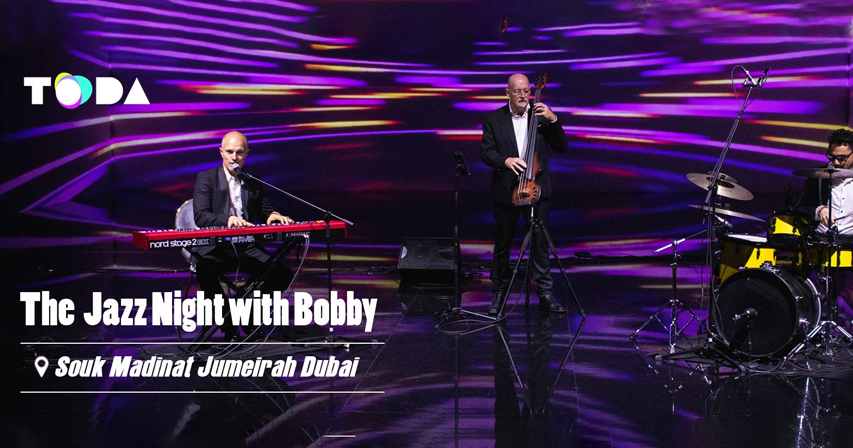 Toda Event : The Jazz Night With Bobby
Events In Dubai : THE JAZZ NIGHT WITH BOBBY
Event Summary
Get ready for an attitudinal, emotional, sensual, and 360° immersive Jazz experience! Join us every Friday as our venue transforms into a Jazz haven. This week, we are thrilled to host Bobby Valchev and his talented band, a trio that will enchant you with your favorite jazz classics, spun into 360° magic. Special guest Florentina will join them to deliver the finest Jazz, featuring sparks of Soul, Blues, R&B, and Alternative Indie, all performed with unwavering confidence. This mellifluous musical journey is a unique adventure every time!
Toda Event : The Jazz Night With Bobby
Dates: 15th September 2023 to 22nd September 2023 Time: 08:00 PM Onwards
Location: Souk Madinat Jumeirah, Dubai – United Arab Emirates
About: Jazz has never been this classy! At TODA, we're elevating Jazz to new heights. Every Friday, our venue metamorphoses into a Jazz paradise. Join us as we welcome Bobby Valchev and his band, masters who will transform your beloved hits into lyrical jazz enchantment. Prepare for an unforgettable experience featuring the best of Tony Bennett, Frank Sinatra, Michael Bublé, and more, all performed on a grand piano in captivating 360°. The magic of this mellowness never repeats itself!
Toda Event : The Jazz Night With Bobby | Duration: 1 hour and 30 minutes
This evening promises to be a harmonious blend of attitudinal, emotional, and sensual jazz performances, taking place from September 15th to September 22nd, 2023, starting at 8:00 PM onwards. The venue for this immersive experience is none other than the picturesque Souk Madinat Jumeirah in Dubai, United Arab Emirates.
Each Friday during this period, Souk Madinat Jumeirah transforms into a captivating Jazz haven, providing you with the opportunity to relish a live performance like no other, all within the immersive ambiance of a 360° show. Bobby Valchev and his band will be the stars of the show this week, and they are renowned for distilling your favorite jazz classics into enchanting 360° magic. Joining them is the exceptional Florentina, a special guest who will contribute to an evening filled with the very best of Jazz.
Expect performances that blend the rich traditions of jazz with hints of Soul, Blues, R&B, and Alternative Indie, all delivered with unwavering confidence. What makes this musical journey even more special is that it's never the same twice – each week brings a unique and enchanting experience.
With a duration of 1 hour and 30 minutes, this Jazz Night promises to transport you into a world of musical delight. The event offers a range of ticket options to suit your preferences:
REGULAR: Enjoy the show from square black cushions surrounded by 360° panoramic visuals, priced at 150 AED.
VIP: Get the VIP treatment with comfortable chairs featuring back support and a table, plus a complimentary selected drink for 260 AED.
BALCONY: Experience the event from the upper area of the theatre, where extra comfortable lounge seats provide the best audio experience, all for 140 AED.
PREMIUM: Opt for comfortable chairs with back support located in the middle area of the theatre for 210 AED.
BALCONY + LIFT: For people of determination, there's a special option available at 150 AED.
GOLD: Secure front-row seats (bean bags) for the ultimate 360° experience at 240 AED.
Don't miss out on this exceptional night of jazz, where Bobby Valchev and his band will elevate classics by Tony Bennett, Frank Sinatra, Michael Buble, and more on a grand piano, all within the immersive 360° setting. It's an experience that promises to be truly unforgettable.
So, go ahead and book your tickets now to be part of "Toda Event : The Jazz Night With Bobby" Simply visit this link to reserve your spot and immerse yourself in the world of jazz like never before.
Booking Information (Toda Event : The Jazz Night With Bobby) –
You have the option to secure your tickets for "Toda Event : The Jazz Night With Bobby" by making an online booking through Q-Tickets.
To reserve your seats, kindly follow this link: Book Tickets.